The Colorado Music Business  Organization
COMBO is a community organization of musicians, music business professionals, and music scene supporters. The Colorado Music Business Organization's mission is to offer the best networking, education, and support resources for the Colorado music community.
We're here to help you succeed in the Music Business

Songwriters' Showcase 
Photo: Lisa Selle | Songwriters performing in COMBO's Showcase will be Lisa Selle, Willie Hammond, Steve Son, Joy Iwancio, Baggs Patrick, Pat Badwound, Joel Ashmore, Nick Summers, Arun Guragain; Matt Gray and his bass player, and Laurie Dameron. We are so proud to have them perform their original songs for us! The show will be held on Saturday, November 18th from 6:00 to 8:00 p.m. at Odde's, 9975 (North) Wadsworth Boulevard, Westminster, CO!
FREE and open to all ages, all skill levels, and all genres.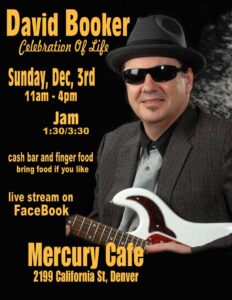 We hope you all had a wonderful Thanksgiving with loved ones or in whatever way you chose! Our apologies for not getting the newsletter out
Read More »